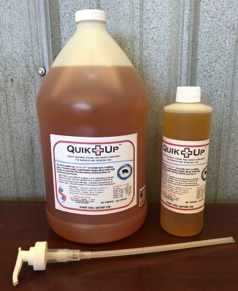 QUIK-UP is a non-medicated nutrient and energy source that contains a comprehensive blend of critical vitamins and natural supplements to help newborn and weaklings recover quickly . The carrier is comprised of a proprietary blend of highly nutritious, easily absorbed fats and oils that move the vitamins rapidly through the system, providing sustained energy and vibrance. Made entirely of plant derived, highly-digestible oils.
Designed to provide a long-lasting burst of natural energy and nutritional
support for newborn pigs or whenever showing signs of weakness at any
stage.
Contains a complete source of Fat Soluble Vitamins A,D,E, and K.
Contains organic forms of selenium and choline
Energy source is a proprietary blend of highly absorbed, nutrient rich fats
Contains naturally derived essential oils with antioxidents that aid in
building the animals own immunities, defend against stress, and
encourage good gut health.
Great berry and natural herb flavoring for a pleasant taste pigs love.
Packaged in one gallon container or small bottle for dosing.
Can be used for pigs at any stage.